พบกับการอัปเดตฟังก์ชันล่าสุด ของ HubSpot CRM และ Line CRM (Littlehelp Connect)

พร้อมกับการแนะนำระบบใหม่ Loyalty Hub เพื่อมัดใจลูกค้าคนสำคัญด้วย Membership & Rewards

ในช่วงที่ผ่านมา ได้มีการพัฒนาฟังก์ชันการใช้งานของ Product ต่าง ๆ มากมาย จึงเป็นโอกาสพิเศษ ที่เราจะจัดสัมมนานี้ขึ้น เพื่อลูกค้าของ Ourgreenfish โดยเฉพาะ โดยเราได้รวบรวมการอัปเดตฟังก์ชันของทั้ง HubSpot และ Line CRM (Littlehelp Connect) ที่เป็นประโยชน์ในการทำงาน และช่วยเพิ่มประสิทธิภาพให้กับธุรกิจของคุณ

นอกจากนี้ ยังมีการแนะนำระบบใหม่ Loyalty Hub เพื่อมัดใจลูกค้าคนสำคัญ ต่อยอดธุรกิจ เพิ่มมูลค่าลูกค้าตลอดเวลาที่มีความสัมพันธ์กับเรา ด้วย Membership & Rewards อีกด้วย

Part 1 Video Webinar Product Update
Agenda HubSpot CRM Product Update
1. Marketing Hub CMS Hub
2. Sale & Service Hub
3. CRM Platform
1. Marketing Hub CMS Hub Update
Improvements to Import


Object ID Imports Can Create New Records
Imports that specify a HubSpot Object ID column (think "Contact ID" or "Company ID") will now create new records when that ID is blank.
When setting up the import, you will see updated language on the Upload setup screen. This language includes a callout that blank Object ID entries will create new records.
Now, customers in the Flexible Associations public beta can use import to:


create associations between multiple companies and a contact, deal, or ticket.



Marketing Event data in lists

Customers can now filter HubSpot's contacts lists based on marketing event data.

This new filtering option will support segmentation of contacts who have: If you have GoToWebinar, Eventbrite or Zoom installed

Attended a marketing event
Registered for a marketing event
Cancelled marketing event registration

Compare Marketing Campaigns with the Comparison Tool

Marketing Campaigns are now supported in the Comparison Tool allowing customers to

compare up to five campaigns side by side.

Compare performance data for the assets included in the campaigns, matching the same data from the individual Campaign details page one-to-one.
Customers can adjust the date range for the data provided and add/remove additional campaigns all from this same screen.

Associate assets and content with a campaign

Associate content assets with specific campaigns from their respective tools. You can also associate existing content assets or create new assets from the campaign's details page.


Email Health by Industry

Email Health is a way for a customer to gauge if they are successful with email and how inbox providers view their mail. Email Health will now provide industry specific benchmarks for overall health and each of the metrics that factor into the score.


Ad Performance Metrics in Custom Reporting

You can analyze the performance of ad campaigns from your connected Google, Facebook, and LinkedIn ad accounts by creating reports using the custom report builder. You can use data provided by each of the ad networks, such as impressions, clicks, and amount spent, and break it down by each ad campaign.


Users and Teams Partitioning for Social Accounts

Social accounts can now be assigned to teams and users.

Marketing teams often run multiple social accounts within HubSpot. However, not every team should have access to publish or see data from every connected social account. In the past, a super admin could only restrict accounts on a single user basis.


CMS Starter Page Limit Update

CMS Hub Starter users will now be able to publish

50 instead of 15 website pages

and can create an unlimited number of multi-language variations for each of the 50 pages.


Marketing Automation Now Live in Marketing Hub Starter

We are excited to share that Forms users can now create simple yet powerful automation tasks such as sending a follow up email after receiving a

form submission

directly from within the Forms Editor or

email marketing.



Update Product Library Package Pro

Create a product library of the goods and services you sell, then associate them with individual deals. With products, you can easily track what you're selling to your customers. When you associate a product to a deal or quote, you are adding a line item, which is one instance of that product. Review the differences between a product and a line item

2. Sales And Service Hub Update
Quotes now supported in Custom Report Builder

The custom report builder now supports Quotes as a data source. This will allow users to report on quote status, value, and owner among other properties.

In the custom reports builder, you can now select Quotes as a data source under sales. From there, you will be able to select properties such as quote owner, quote amount, and payment status. This will allow you to create reports that capture important business metrics, including:

Quote amount per owner
Number of outstanding quotes that have yet to be paid by owner(rep)
Number of quotes that have been signed but not paid


SLAs

You can set SLAs based on the time to a first reply and the time to close a ticket

, and apply these rules to all tickets in the inbox or based on ticket priority. SLAs can apply at all times or only when your team is available.


Audience Targeting Improvements for CSAT/NPS Surveys

Previously, limited control over audience and location of surveys, but can now leverage expanded targeting options for NPS and CSAT web surveys.
Audience and Settings tab has been changed to "Targeting" with expanded features to better serve your customers.


Create and use customized quote templates

If you're a Sales Hub Professional or Enterprise user with super admin permissions, you can create a customized quote template that your team can select when creating quotes to send to prospects. With editable modules, you can modify the template's design and content to match your business's needs.


**Create a customized quote template (Sales Hub Professional or Enterprise only)
Forecasting now available on Android and iOS! Managers and reps can now manage their forecasts within the mobile app for a more seamless experience.

Create, edit, or delete records in the mobile app
Associate records in the mobile app
Activities on records in the mobile app

Forecast, Reports, Social,. Tickets,





[Automated Rollout] New goals experience
We're launching seven goals in Service Hub. A new goals experience is available for all our goals to help you easily set, track & manage your business goals. Revenue goal is available for Service Hub Pro & all the other goals are available for Enterprise.
1. Revenue (Sales Starter, Pro)
2. Calls made (Sales Ent)
3. Deals Created (Sales Ent)


4. Meetings booked (Sales Ent)




5. Average ticket resolution time (Service Ent)




6. Average ticket response time (Service Ent)




7. Tickets closed (Service Ent)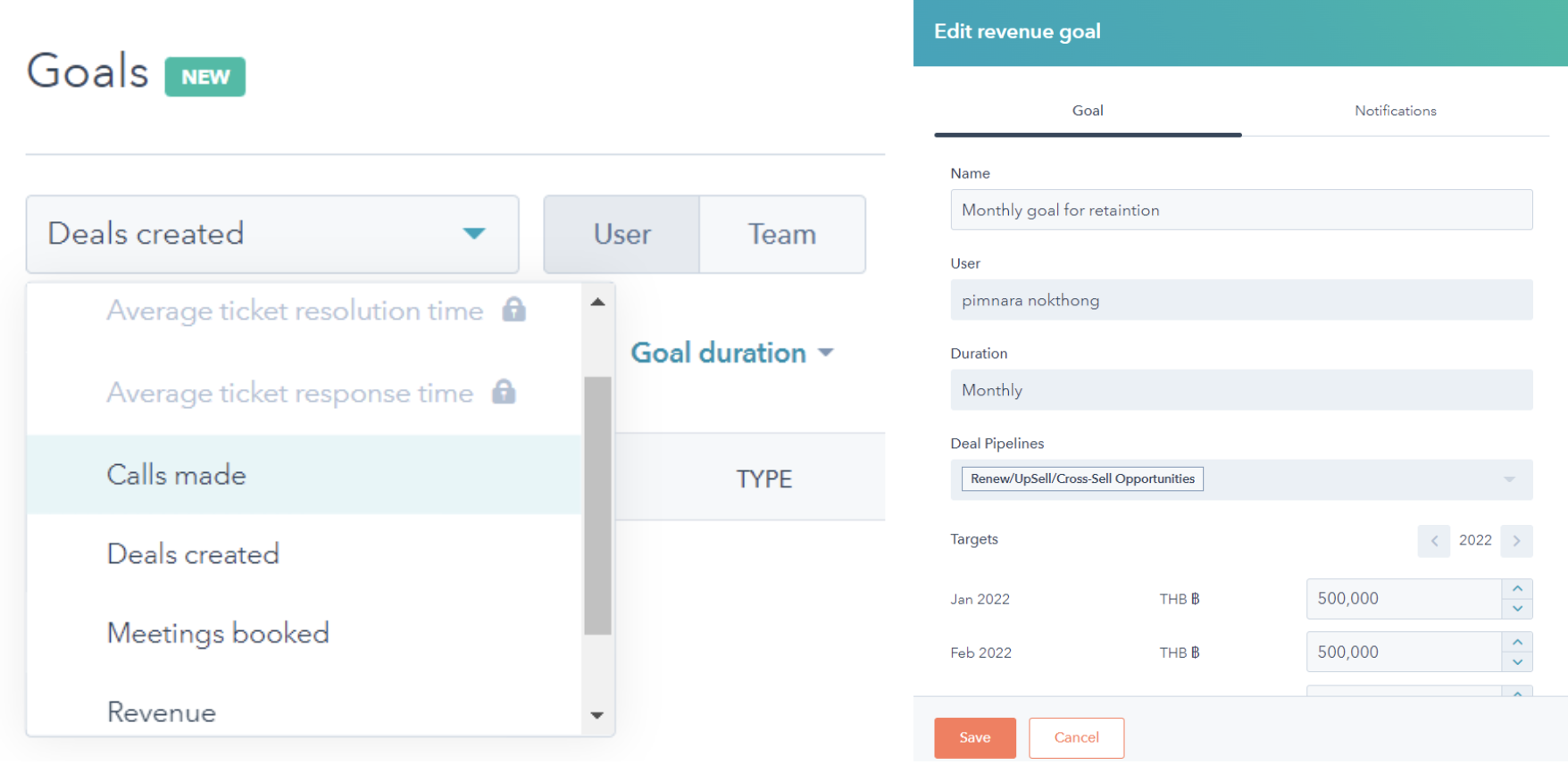 2. CRM Platform Update
Embed external content on a dashboard

Embed external content on a HubSpot dashboard to display that content alongside your reports. For example, you can embed a Google Slides presentation or Twitter feed.
Embedded content counts toward the limit of items you can have on one dashboard, but does not count toward your limit of custom reports. Learn more about these limits in HubSpot's Product & Services catalog.


Manage workflow settings

From a workflow's Settings tab, you can manage when actions should execute, set unenrollment triggers, add associated campaigns, allow Salesforce enrollment, and

configure workflow related notifications.




[Private Beta] Right Sidebar Customization


Now you can customize the right sidebar of CRM record pages to show or hide the information that's most relevant to your teams.
Give your team the information they need in the order that makes sense to them without being distracted or confused by irrelevant properties.


Create and use association labels

In your HubSpot account, you can associate records to connect them in your database. Super admins in Professional and Enterprise accounts can also label the association to specify the relationship between associated standard CRM objects.